ThailandBilliard.com
supplies all billiard products & accessories including billiard cue & equipment, shopping, pool cue sticks, snooker & billiard tables, gloves, cue cases, snooker & billiard balls, table cloth, Players, Predator, Mc Dermott, Lucasi in Thailand.
The "Lion" takes Asian 9 Ball Tour stop in Singapore
---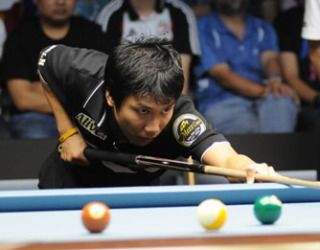 Orcollo struck first in the final winning the first 2 racks for a 2-0 lead before letting Alex PagulayanPagulayan in who ran-out the next five to lead 5-2 and kept infront all the way before a dry break in the 15th rack and a scratch in the 17th let Pagulayan in and then ran out the final 3 racks for victory.
'At last!' said Pagulayan who adds the prestigious title to his big wins as the 2004 World Pool Champion and the 2005 U.S. Open. 'Everything went wrong for Dennis and all the rolls went my way. It's about time that we won because the Taiwanese kept on winning all the legs since last year. It feels good and extraordinary to beat the number one player in the world'. Pagulayan earned $15,000 for the win with Orcollo collecting $6,000 for the runners-up spot.
Pagulayan had to overcome Chia Ching Wu of Chinese Taipei 9-6 in the semi-final with Orcollo defeating Ching Shun Yang also of Chinese Taipei in a final frame decider 9-8, setting up the all Filipino final and halting the dominance of Chinese Taipei, one player, Chang Jung-Lin who had won all 3 previous stops in the years Asian
9 Ball
Tour.
Next stop on this years Asian
9 Ball
Tour is Guangzhou, China with the grand finals lined up in Jakarta, Indonesia on October 24th where the top 10 performers in this year tour contesting the final contest with a first prize of $36,000.
Source: snookerclub.com
-------------------------
Please visit
Thailand Billiard
, we always have
Pool Cues for Sale
for you!
Comments