Defensive Pool School
---
Safeties are (no!) were my new challenge. Wow! What a weekend. The hubs and I took time out to visit
Donny Lutz
for some lessons on defensive pool.
It never occurred to me to see an instructor. And after Donny made an offer, I still wasn't so sure
. But after the hubs gave me his blessing we drove 2 hours north to see the one and only Mr. Lutz.
After 2 hours of defensive moves. I knew... My memory bank was overloaded. What did I get out of this lesson? My brain was totally in a daze. No doubt about it the best thing to do now was go shoot pool.
It's now been 2 days since we met Donny for the first time and now- We can't wait to see him again. What a great feeling. Safeties although a simple idea were by far something that seemed to go in the reverse direction of my pool game. In the last few days. I've gone from seeing the possibility of 1 defensive move my entire match to making lots and lots more.
If you ever need serious guidance. Check out an instructor. It's just awesome
.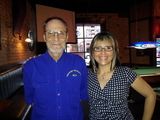 Stay Juicy
Comments