CueSports International
Silver Member
WE'RE BACK!
We are already looking ahead to the
2021 BCA Pool League World Championships
in Las Vegas, March 3-13. Although the COVID-19 pandemic has created chaos for pool leagues and events around the world, we are preparing for the next edition of "The Greatest Pool Experience in the World." A few things have changed so please read this post thoroughly so you are aware of what's new and how to become eligible.
We look forward to seeing you in beautiful Las Vegas.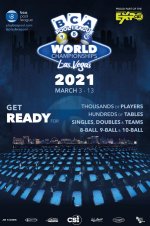 NEW FOR THIS YEAR
Here's what's new for the 2021 BCA Pool League World Championships.
8 weeks of play requirement reduced to 4 weeks.
Due to the COVID-19 pandemic and the difficulty it has placed on our leagues, the requirement to play at least eight (8) full scheduled weeks in a single division session during the 2020 calendar year has been reduced to four (4) weeks.
Original player requirement eliminated.
In the past, most 8-ball team divisions have required at least two (2) players from the same league team be on the team and play each round. That "original player" requirement is being eliminated for 2021. Teammates in the 8-Ball Platinum, Gold, Silver & Bronze divisions only need to be from the same league.
CSI Team division added.
For those who don't have the opportunity to join a BCA Pool League, especially those from other leagues such as VNEA, ACS, TAP, APA, etc., we have added the CSI Teams division. Although this division requires all teammates to be CSI members ($30/year), has a higher entry fee than the BCA Pool League divisions, and has no added money, it does at least provide everyone a chance to experience team play at the BCA Pool League World Championships. To compete in the larger BCA Pool League divisions with more prize money and smaller entry fees, players should encourage their League Operator to make the league a member of the BCA Pool League.
Scotch doubles can be male/male, male/female or female/female.
Although this was introduced in 2020, it's important to highlight it once again. Scotch doubles teams may consist of male/male, male/female, or female/female.
Pro events return.
Predator and CueSports International (CSI) are excited to announce the return of the $100k added Predator World 10-Ball Championship and the $25k added Diamond Las Vegas Open during the BCA Pool League World Championships. These events have become two of the most anticipated pro events in the world and you will get to enjoy them again in person for free in the CSI Arena.
<<LEARN MORE>>