Three Beautiful pointed cues for sale. I wish I could keep them all but unfortunately I have to let them go. All 3 butts are in mint condition. Everything rolls straight together and apart.
First is a 4 point ebony cue with highly figured Birds eye maple forearm with 4 veneers black, green, Orange and natural. ivory inlays in the points and ivory boxes in the butt sleeve. 2 13mm shafts, 1st shaft 4.1, 2nd shaft brand new 3.8. butt weighs 15
sold
Second is 4 cocobolo floating points with curly maple forearm with beautiful cocobolo inlays in the butt. Nice ringwork above, below the wrap, and at the end of the butt sleeve. 2 13mm shafts , first shaft 4.0, 2nd shaft 4.1 brand new. butt weighs 15.9.
sold
Third is a 4 point ebony cue with highly figured Birds eye maple forearm with 4 veneers black, blue, brown, and natural. mother of pearl inlays in the points and in the butt sleeve with birds eye maple boxes in the butt. beautiful ringwork in all positions, A,B,C,D of black, blue,black and maple inlays. 2 matching ringowrk shafts 13mm shafts, 1st shaft 4.1, 2nd shaft 4.2. butt weighs 15.1
sold
Paypal Gift Payment Accepted or Paypal invoice plus add 4% for fees . (shipping is included in the price)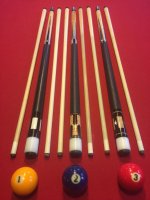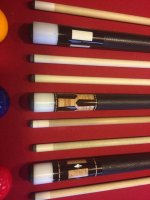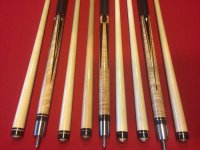 Last edited: