AzB Silver Member
Silver Member
*bringing this tread back from the dead* I did find were it's stated Rambow "invented" the Hub Cue, but can't find any proof. Really an interesting cue! Any info would be appreciated!
I think the 360 tread covered about all the known info available and will be condensing it to the main page, when I get time. I would like to do the same with this tread, I will give credit to everyone who contributed. I never wanted the credit for the treads, just thought it would be cool to have all the info available on one tread, when someone wanted any info, just check the treads and hopefully it will contain all known info on what ever Cue is featured.
I sincerely thank anyone who contributed, as this info isn't going to get any more plentiful, once it's lost.
In doing my research on the 360 I found several mentions of the Hub Cue, also a few mentions in the 360 thread. So I decided to start another thread about the Hub Cue. Below is the pictures and story as I received it from a friend. Please post up history or pictures that are available.
As I know it, the Hub cue was the first successful "modern" two piece production cue. It wasn't fancy but it was relievable. While there were many two piece cues before it,the Hub started zeroing in on what we know as modern dimensions. Mine is Rosewood with an Ivory joint, ring at the front of the wrap, and an ivory butt cap. It also has a bumper which was a little unusual until the 1940's when they were called "dampeners" not bumpers referring to what they did to the sound that came through the cue. The wrap on this one in the pictures is silk. The handle is removable much like modern jump/break cues, but in this case without the handle the cue was used as a masse' cue. The ivory ferrule is called a bell ferrule and the thought was that a thinner shaft gave you more action but the thicker tip provided better contact. Good idea except they always cracked because the thinner base of the ivory couldn't withstand the impact. Overall this was Rambo's first real mega-success after tutoring from Britner. Found my Hub cue at a house sale around 1989. It was in an umbrella stand with a couple of canes and umbrellas. I spotted the butt first and then found the shaft. I paid very little for it...... and have played with it several times before retiring it to the collection. For reference – If I can't play with a cue I don't consider it a cue. First and foremost it must be able to perform its function. For what it is worth, it hits good, very solid and it is still straight.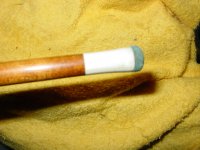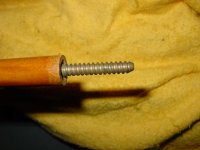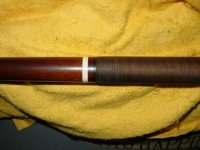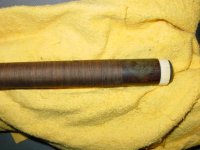 Last edited: