Fish of the Day
Silver Member
How much sidespin (offset from CB center) produces how much "action"? Here's the answer for the tables and balls I play with at my local pool room: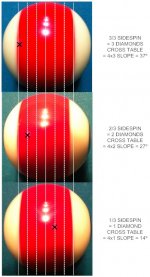 Using a Centennial ball's stripe to show the miscue limits on either side, I hit many sidespin shots and checked chalkmarks afterwards (the chalkmarks are too faint to see in the pics, but they're under the Xs).
For the cloth/ball conditions at my local pool room, the CB rebounds about 1 diamond wider for each 3/16" (1/3) of tip offset, up to 9/16" (3/3) at the miscue limit. This is true whether I'm hitting
hard or soft
and whether I'm aiming
straight across the table or at an angle
(the amount of
added
angle is 1 diamond per 3/16" offset) .
pj
chgo
Last edited: