Accu-Stats Messenger
Silver Member
Derby City Classic PPV schedule <<<===={{{{{
Tournament Starts: 1:00pm EST
Saturday January 21, 2017
All Times Are Eastern
(We will be on air at 12:45pm)

Match Times

1:00pm - Karl Boyes vs. Thorsten Hohmann

3:30 - Alex Kazakis vs. Alex Pagulayan

Dinner Break

7:00pm - Darren Appleton vs. Fedor Gorst

9:30 Carlo Biado vs. Ruslan Chinakhov

http://accu-stats.com/liveppv.

Also let me show you the new look online store !!!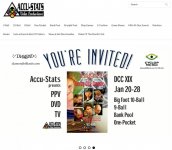 http://accu-stats-video-productions3.mybigcommerce.com/
:yeah:
Last edited: