It's Good For Your Game!
Silver Member
Diary of an antique Brunswick
If this table could talk it would probably have some stories to tell. Like the guy who came and replaced the cushions one day totally bastardized me and I never felt right again!
I did an earlier post you can view here:
http://forums.azbilliards.com/showthread.php?t=84527
In that post I outlined all the playability problems I had with this table two of them were cushion nose height being too high and the table measuring 100 3/8" X 50 1/4". Today I have just started working on it and have discovered a few things.
So two of my issues have been figured out with the disassembly where I found someone installed the wrong cushions. The first photo is the measurement of the old cushion and the second is of the new. So at least I no longer have to worry someone tried to modify the sub-rail with a freaking belt sander! I did a mock up with the new K-55 cushions and everything looks like it should with correct nose height and the nose further into the play surface. The other thing I discovered was that in many places the cloth was bunched up and sandwiched between the rail and the edge of the slate, you can see this in photo three. I would imagine this would effect a host of things. Photo four shows the difference in how the old and new rubber fits the rail with the old rubber not covering the bottom of the sub-rail where my screwdriver is. In photo five are the cushion facings which really make this a hack job!
I originally bought this table from a room owner who took it in on trade. He was a real good player and heard Grady Mathews used to come up and play him when he was up here in Maine. I remember him telling me I would have to belt sand the sub-rails and install K-66 cushion to get it to play right. I think I am glad I did not listen to him at the time. I guess I always believe if you are going to do something do it right. I really can't believe I have put up with this table playing so poorly as long as I have and I am sure this why I have not found my game. I know it is!
My next step will be to strip the finish from the rails and then clean up all the old adhesive from the sub-rails after which I will make up and install the sub-rail extensions then some sanding and finishing. But now it is time for the Superbowl!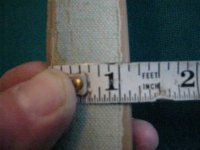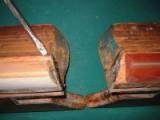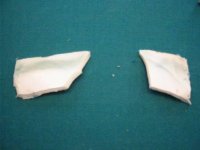 Last edited: