I just acquired this cue, but I am not a fan of steel-joints, even though I keep trying them out. Though it is a beauty!!!
This cue is in 98% condition at worst, without any dings or marks. Cue and Shafts roll straight - NO BLUING - cue looks BRAND NEW!!!
It was made by Rick Phillippi using a John Davis Blank - no signature, since Rick only signs cues he built 100%.
Cue Specs:
Tulipwood forearm with ebony points & 4 veneers - natural/orange/grey/blue
Tulipwood butt-sleeve with Ivory Hoppe Ring and Ivory Horseshoe inlay
5/16 x 14 joint
Black leather wrap
Butt weighs 16.37 oz
Shaft #1 - 4.6 oz - 13mm tip
Shaft #2 - 4.66 oz - 13mm tip
Shaft #3 - 4.66 oz - 13mm tip
CUE IS SOLD!!!
Please PM, POST, or E-Mail with questions or offers.
gotulane@bellsouth.net
Thanks,
Michael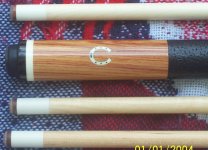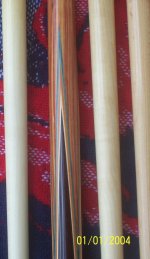 Last edited: