AzB Silver Member
Silver Member
Hey All,
I have been out of the pool game for some time and now have some time to start playing again but want to focus on snooker for the time being.
I have few custom pool cues and have done a lot of buying and trading here on az and now I would love to give one of my cues to the person who is serious about the game but cannot afford quality cue to get the game to the next level. I have given away 2 snooker cues already here on az and now its time for a pool cue!
Therefore I decided to do something good and give away my Titlist conversion made by Nubs.
Cue is a bit light around 18 oz (weight can be added). 2 shafts around 12.6-7, 5/16x14 ss joint, leather wrap. 58 inches.1 shaft is a bit bumped up around collar and not original to the cue but still made by him (super think ring in black collar is silver, not copper like in original shaft)
Look for pictures below.
As for whom to give the cue to, maybe someone could help me figure out the best way to be fair- please share your opinion.
I was thinking putting a deadline next Wednesday, noon EST.
Please share if you are in need of a cue or know someone who can benefit out of it.
As a side note, I am looking for a new job in finance. If somebody could help me with this I would be greatly appreciated.
Thanks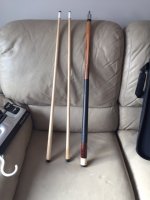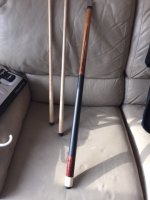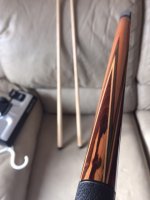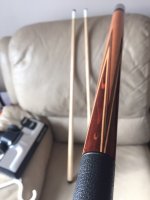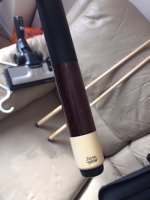 Last edited: