Did you say shrubberies?
Silver Member
Have for sale a very nice Parrot by David Hodges. I've wanted a Parrot cue for a very long time, and was finally able to add this one to my collection. However, now, all it does it sit in my cue rack. I haven't touched it since it arrived. It's a great playing cue, and deserves to be used. I've just been grabbing my Joey B, lately.
One shaft is 12.8mm, the other is 12.7mm. I do not have a scale to weigh the cue. I do not know the kind of tips. The cue is more modern feeling, meaning it is thin in the handle area. The joint is not Ivory; guessing a thermoset of some type. Inlays, including the parrot, are abalone.
Price is $800 shipped & insured in the lower 48.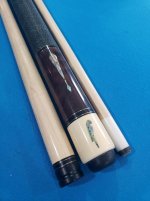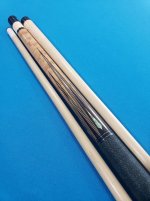 Last edited: