AzB Silver Member
Silver Member
I know, the Mosconi Cup focus has been discussed over and over. But, I believe that this question is worthy of discussion. This article on yahoo about the Olympics, there is a "picture that says a million words." It occurred to me that maybe
this type of reaction may be more about our culture than about individual athletes.
I rarely recall other countries athletes reacting similarly (maybe more isolated).
So, do we (in the US) cultivate this type of response when an athlete does not get their way? Maybe by pressure to be the best? Or our expectations that our (US) best is entitled to be the best in the world (like it is a birth right)? Any other ideas?
The article...
The Article
The picture that triggered my question...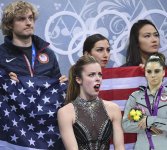 And maybe not just our athletes...Taylor Swift's reaction when she didn't win a grammy was viral recently.
Daren