(Review split over 3 posts due to character count limit per post)
Last year I received my custom JB 4x8 butterfly cue case (see
review here
). It is a great case which I really love. I get a lot of compliments on it, and recognition from other JB case owners. That case has tons of room for everything I would ever want or need. As I predicted though, I am finding it to be a bit cumbersome and overkill for some of the locations I frequently play. Even though it is very compact for a 4x8 case, there are some nights where it does not fit the venue having a bit more bulk than I want, so I just grab my 1x1 and go. Two problems; I have gotten spoiled with JB's protection and I like my break cue a lot. Solution; a JB Rugged 2x3.
I wanted to post a review for my newest JB Case for multiple reasons. I am excited and proud of this case and how it came out. I wanted to show it off to my peers, hoping others will find it just as cool as I do. I also want people that are unfamiliar with JB Cases to know why they are different and worth it. When I started playing, I didn't understand why anyone would spend a lot on a case unless it was quality leather case. After having experienced other cases and gaining more knowledge about what is going on inside the case, I have become a cheerleader for JB's product. I think they have a high-quality case that excels in protection and comfort. They are focused more on customer satisfaction than mass producing generic cases. The case is amazing by itself, but then the level of customization for whatever you dream up pushes it over the top. Another great point is the lifetime guarantee. For me a lifetime guarantee is less about replacing a broken case in the future, and more about a company building a product well enough that there is little chance it will give me trouble or need to be replaced.
Like an A-10 Warthog, that took a super gun and built a solid functional plane to go around it, JB Case made a super interior and built a great case around it. I really care a lot about my cues and want to keep them nice. I invested a lot of time and money to get the cues I have. They are not high-end customs, but by my standards I have a lot of dollars and sentiment invested in them. John Barton's passion for his company and products moved me to research further, and then purchase my first JB case from him. That case reached my expectations and more, so it was a no brainer to have JB Cases make this 2x3 case.
I know that I could have just gotten a basic JB Rugged case and happily get my cues to-and-fro safely, but where is the fun in that? Will this case make me a better player? No, so why bother with all this custom stuff? Because I can, it makes me feel good, and I like unique and
weird
, so off I went to the designer on the JB Cases website and started playing around with some ideas.
Had some basic rules at first
:
2x3 Rugged.
This case is the baby brother of my Gonzo Diver Butterfly, so it had to have my Dad's artwork incorporated again.
Black with Purple accents.
The magnetic puzzle latch flip lid. No zipper! I think it's a genius idea.
I put together my ideas on the designer to get an approximate look and price. I had a good direction, but all of my ideas could not be done well with the designer yet. The designer is great tool for making standard cases with minor customizations, but with all the modifications I wanted, it didn't really give a great visual. I moved to a photo editor and started cropping image pieces from the JB Cases website in order to puzzle them together into what was in my head. In the end I decided to go with a Rugged Hybrid leather/nylon 2x3 with a magnetic flip lid. I am surprised more people don't choose this lid option. It is common on the full leather cases, but it was harder to find examples on the rugged or hybrid style.
Now I could see it better and I give JB a clearer idea of what I wanted. JB hit the mark!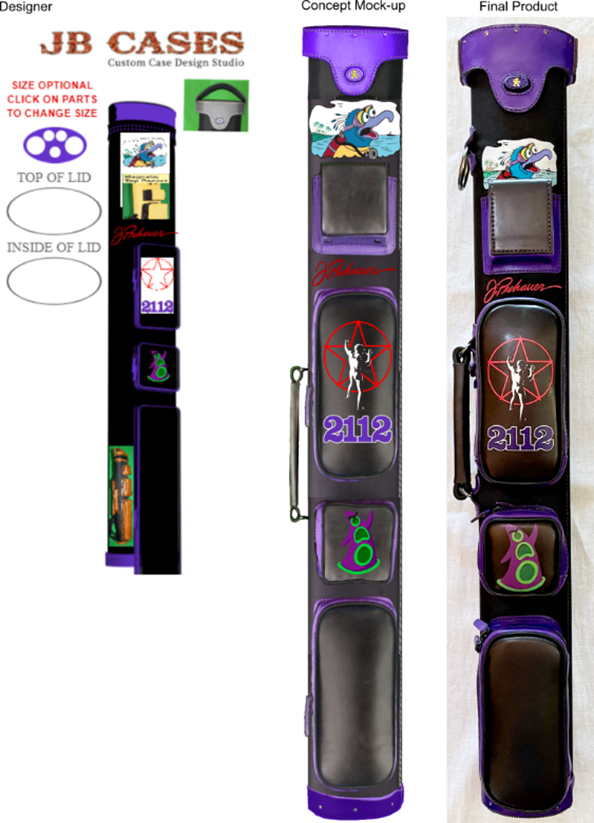 Other features
:
Same leather side handle as is on my butterfly case. It is super comfortable, streamlined, and looks great.
I like the clean look of no top handle on the smaller case, and it really isn't necessary on this size case anyway.
I went with a single back strap. On a smaller case one is all that is necessary for my normal needs, and I can add a second one if at any time it may be needed later.
The Hybrid leather feature for lid, pockets, and bottom.
The top pocket is a magnetic pocket. I No zippers makes it quick and easy to use for joint protectors and such.
Middle pocket is basically a normal top entry pocket I can use for my custom cue rest.
I decided not to have one long bottom pocket and split it into two.
The upper pocket is a small pocket to keep my chalk separate.
The bottom pocket is book style and will be my junk drawer for whatever is left.
Part way through I asked to have a towel ring added. Since it was not fully assembled yet they were happy to add it on.
Last edited: