player/instructor
Silver Member
JB "rugged" case (= prototype?)
This is the most useful everyday case I've ever owned.
Period.
Could stop the review here and let the picture do the talking (for more pics look here
http://www.jbcases.com/jb-p-010.html
):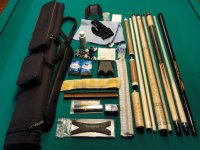 Weighs roughly 60 ounces empty and looks elegant, almost slim given
all that
(even a little more, if needed!) fits in! (Those self-made textile wrappers are for the playing cue extension and the jump cue butt – the large pocket has one side compartment for a jump cue handle, not long enough for both parts.) Stable, most versatile and space-saving 2x5 (2 butts, 5 shafts) = 3x4 (3 butts, 4 shafts) UltraPad interior that ensures everything is well-protected and nothing accidentally slips out of the case. Wish the interior weren't black (e.g. red or blue would be preferred), as I seem to be getting night-blind enough to where, in a darkly-lit pool hall, I'm unable to see the compartments. The L-shaped zippered pockets are a definite improvement over those on e.g. my Flowers Tribute 2x4, virtually impossible to get in/remove e.g. a ProJusta bridge head there, let alone tuck it under or over a rubber Q Claw cue holder. Pockets are not higher, but the softness and flexibility of the canvas is making things easier also (even so, an eighth or quarter of an inch higher pockets wouldn't hurt). The rubber bottom may not look like much but makes great sense – as slip-resistant as any. The case is light and very comfortable to wear over one shoulder (mine came with shoulder pad otherwise same as on the pictures on John Barton's web site) or – my preferred way – diagonally across one's back. The strap can easily be taken off, if one prefers. Would love to have a fancy tooled leather 2x5/3x4 JB case, but for the time being, this will do nicely! :thumbup:
Greetings from Switzerland, David.
_________________
"J'ai gâché vingt ans de mes plus belles années au billard. Si c'était à refaire, je recommencerais." – Roger Conti