Florida's BEST!
Silver Member
Okay folks July 14th & 15th our next event will be in one of Florida's top pool rooms with the best food down south. Strokers Bar and Grill presents The Sunshine State Pro/Am Pool Tour $1000.00 added Amateur event with a $200.00 added second chance tourney on Sunday open to anyone.Also one of the best in the business
Inside Pool
will be live streaming this event!
Thank you
You can register online @ TheSunShineStatePro/AmPoolTour
Check out our tour schedule
If you have any questions or concerns please send us an email through our contact form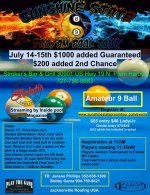 .