AzB Silver Member
Silver Member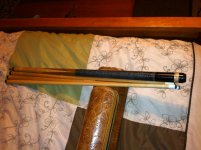 I have this Kersenbrock to let go of.It was made from an old house cue that I had special attachment to.you don't find very many conversion cues from David .
I had just received a large insurance settlement . I lived in New Mexico at time so we loaded up and headed to Vegas!this was in 1989 I had just heard about Southwest cues got directions to their shop and headed over ,I had a sentimental house cue Jerry and David were in back of shop talked about cues and my passion for all things billiards related.Told the guys my time frame Jerry said he had a lot going on couldn't due it for couple of months I had about 3 weeks. David said he would do it Jerry didn't mind!
Cue has 3 shafts all with ivory ferrules ebony butt with birds-eye ring wrap and everything is original it has been untouched for over 20 years!Health issues cause my thinning out of closet.
I've sold dozen high end cues last two years it's getting harder to let go!
Contact me if you have any questions 251-422-2354 Jerry2,
Jerryterrell2@yahoo.com
I don't know value so I'm starting at 2500. If that's out of line either way please enlighten me.
I would take a wrap less titlist conversion in trade or trade even for a ebony titlist conversion .
Thanks for looking! Jerry2