For sale, 98-99% near mint, Predator Roadline PRE4RW. Very well taken care of, Dennis Searing asked if I even used it, when he cleaned the wrap, the original shaft and reshaped the tips.
Tips : 12.75mm, Searing Precision M
12.9mm, Searing Precision S on REVO
Ferrule : .5" Polymer developed by Predator
Shaft : 29" 314 3rd Gen shaft and 12.9 REVO
Pin : Uni-Loc
Collar : Micarta
Forearm : Natural maple with four yellow, blue, orange, and black veneers
Wrap : Brown Irish Linen with white specs
Butt Sleeve : Rengas
Butt Plate : Micarta with Predator logo
Bumper : Black rubber
Weight : 19oz (adjustable)
Also authentic Predator 3" mini Qr2 cue extension.
Cuemax 1.5" joint extension
***If you need better pics, PM me and I will gladly text or email better pics.
$900 OBRO for everything or
$500 OBRO w/314 3rd gen shaft, and extensions
***Includes USPS priority shipping in the US
***Zelle, PayPal f&f, or PayPal g&s add 3%
Thanks,
Gabe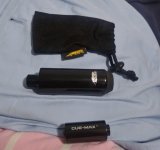 Last edited: