Scott Frost - Efren Reyes 2016 DCC One pocket match - SPOILER ALERT!
So Accu-stats published another one pocket match on youtube the other day. Great match featuring Efren and Scott in a short race to 3 from the 2016 DCC. I just loved the ending. Efren rolling in a long tough cut and uncharacteristically going "Yeah!" while Jerry Matchin is in the background looking like he's wondering what just happened.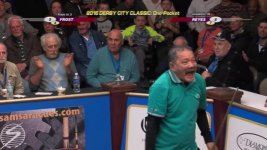 Here's a link to the match if you haven't seen it yet.
https://www.youtube.com/watch?v=XfmIrRPaMvY
Last edited: