AzB Silver Member
Silver Member
Shane has been using this draw break in the World Championship. I wasn't able to get a video from the World Championship but he was practicing it last week and it looks like this.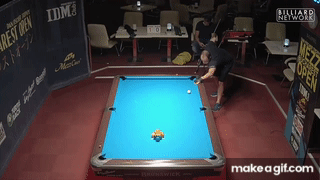 He's drawing the cue ball back to the middle of the rail between the side and the corner where he's standing, and back out toward the center. It looks similar to the cut break where they draw to the other side of the side pocket. Here, Shane is drawing straight back.
He actually got a warning from the ref to not break any softer, although it didn't seem like a soft break to me.