Diamond Dave's babysitter
Silver Member
I'm making a new post on this topic because it's probably going to be a long read. If that isn't your thing, fine. Move on. If you do read this post, and you have information that I don't have, or that contradicts something I've said, feel free to correct me. However, please don't do so with anecdotal evidence. We're talking about world records, and, "I touched the edge of the table with my pinky finger," means nothing when it comes to logical, evidence based reasoning.
I'm also writing this with zero regard for any personal issues between John Schmidt, Street Lights, and anyone involved in the straight pool community.
If you want to read my thoughts on Schmidt and Shaw, and the game of pool, skip to the end.
There's several issues I have thoughts on:
1. Some people argue that John Schmidt should be invited to Street Lights and given the chance to challenge Jayson Shaw's run of 714.
First, no individual has any obligation to invite any other competitor to attend any event whether it is designed to set a world record or not. Florian didn't invite anyone to attend his house and, under the same conditions, attempt to beat his world record for spinning a cue ball on the spot. I have spun a cueball on the spot for 27 seconds, which I'm pretty sure is longer than his previous world record. Even if that was public knowledge, I would have zero expectation that Florian would invite me to attend his event and attempt to beat his new record. If I genuinely wanted to challenge Florian's new record, the onus would be on me to arrange the ideal conditions required, the witnesses required, and any other requirements to enable me to set a new world record.
John Schmidt set his world record run of 626 under the same circumstances Florian did. He arranged conditions for him and him alone to set a new high run. He didn't invite anyone else to run balls using the conditions that he organized, using the resources that he, his team, and his sponsors expended, and he certainly had no obligation to do so.
Street Light Billiards and their team have, exactly as John Schmidt did, organized a private event using their own resources, their own sponsors, their own venue, and the equipment of their choosing. They, just like John Schmidt, are under no obligation to invite any individual to participate in their event. Regardless of whether the intention of their event is to provide a venue for players to break their personal bests, entertain pool fans, or set a new world record. In fact, for obvious reasons, typically, individuals attempting to set a new world record in any category intentionally do not invite other competitors to attend their event.
Secondly, to address an issue that I think is irrelevant, some people will argue that it would be "the right thing" to do to invite John Schmidt. Would it have been the right thing to do for Eddie Hall to wipe the blood away from his nose and eyeballs, pick up his phone and immediately call Hathor to come and attempt the same deadlift with the same equipment to beat the record he just set? Of course not. Eddie Hall's world record deadlift had nothing to do with Hathor. And Jayson Shaw's new world record and the event being run at Street Lights has nothing to do with John Schmidt.
Any individual wishing to run balls under conditions that would recognize a world record can organize those conditions themselves and invest as much time and as many resources as they are wiling to.
2. Some people argue that the table being used at Street Lights calls into question the validity of any runs made on said table.
The queries about the table appear in several forms.
A. On Facebook in comments and on stream, some people said things to the effect of, "How big are these pockets? 5 inches?!? Wow, too easy. Why don't they use a normal table with 4.5 inch pockets?" I assume these people don't have any knowledge of the history of straight pool or recognized high runs made playing straight pool. These comments don't need addressing here. We all know that 5 inch pockets are not unusual for straight pool and the previous recognized straight pool records.
B. On here, the AZB forums, and on the more knowledgeable billiards related Facebook groups, some people have suggested that the table seems to play easier than other tables with 5 inch pockets, without specific details. Briefly, this is opinion, and none of those people have played on the table Mosconi used, John Schmidt used, and Jayson Shaw used, and not even the latter of the two. New cloth, type of cloth, condition of the balls, atmospheric conditions to name the most significant can all affect how a table plays, and specifically, how the pockets play. No one has knowledge of all these factors with regards to the three recognized straight pool world records, and it wouldn't matter if they did.
C. On here in particular, the AZB forums, and on the more knowledgeable Facebook groups, some people have suggested the Street Lights table is a "gaff" table. The claim is based on their belief that the corner pockets' throats and mouths have a similar width as opposed to the throat being more narrow than the mouth. This claim can be taken a little more seriously (or can it?).
First, what do we know about the tables used for the three widely recognized high runs? (And this is where people probably have more information than I do, and I'd invite those people to comment below.) (Also, the bourbon is kicking in, so the quality of this post may start to degrade
)
Mosconi's 526
Table specs:
The table was 8'x4', of that, everyone is certain. With the regards to the size of the pockets, numbers range from 5.25" (this seems to be considered a mistake) to 4.75", though it's generally accepted that the table had 5" pockets. What was the angle of the pockets? We can assume they narrowed from the mouth to the throat, which is regarded as a requirement by BCA and WPA for sanctioned events, but given that we don't know any facts about the table other than the bed dimensions and it's make, a Brunswick, that's all we can base the discussion on.
Other conditions:
We don't know anything else as far as I'm aware. People have mentioned that Mosconi used to bring his own balls to the venues he played at, certainly at least his own cue ball. Someone on AZB, no names, mentioned they pocketed one of his cue balls while he was distracted, and that the cue ball had a blue measle dot. I don't know anything about the balls used at the time, and I assume Mosconi used his own balls as one of the only ways he could control the quality of the playing conditions. There's also talk of balls hopping out of pockets and the run being allowed to continue. This comes from people that were apparently there but can't be verified.
Known facts:
8'x4' Brunswick table with (probably) 5" pockets (angle unknown).
John Schmidt's 626
Table specs:
The table is a 9'x4.5' Rebco. Someone on Facebook told me they have played on the
8'x4'
table that John Schmidt used. I assume this was a mistake on their part. Photos provided by Bob Jewett show the corner pockets to be 5" or a smidge under. The photos appear to show a slight narrowing towards the throat. I don't know the exact angle.
Other conditions:
Although I haven't seen the 626 video, other videos from Easy Street appear to show John Schmidt using standard Aramith Pro balls (non-TV version). I'm fairly certain he was using 760 cloth, and he was using a Sardo Rack. I've never used a Sardo Rack, but my understanding is that it forces the balls down onto the table, and I therefor assume that after a reasonable amount of time, it ends up training the table somewhat. I could be entirely wrong about this. The table also had a racking triangle drawn in place.
Known facts:
9'x4.5' Rebco table with 5" pockets, slight narrowing of throat (angle unknown), 760 cloth, Aramith Pro balls, Sardo Rack
Jayson Shaw's 714
Table specs:
The table is a 9'x4.5' Brunswick. Photos provided by Easy Street show the corner pockets to be 5" or a smidge under. Images from the stream and photos taken throughout the event appear to show a slight narrowing of the throat. I don't know the exact angle.
Other conditions:
Videos and photos appear to show Aramith Tournament Duramith 4 balls. The cloth was new 760. The rack appears to be a PermaRack; a system that provides a template used to place very thin donut stickers for all 15 balls to be racked. It's basically a permanent template that allows the balls to be easily racked without gaps but with less interference than a removable template. The table also has a racking triangle drawn in place.
Known facts:
9'x4.5' Brunswick table with 5" pockets, slight narrowing of throat (angle unknown), 760 cloth, Aramith Duramith 4 balls, PermaRack
Below is a collection of various photos of the tables used by Jayson Shaw and John Schmidt. Each pair of pink lines on a single pocket is identical in length. This is obviously not scientific, and we're dealing with perspective distortion, etc, but it's all I have: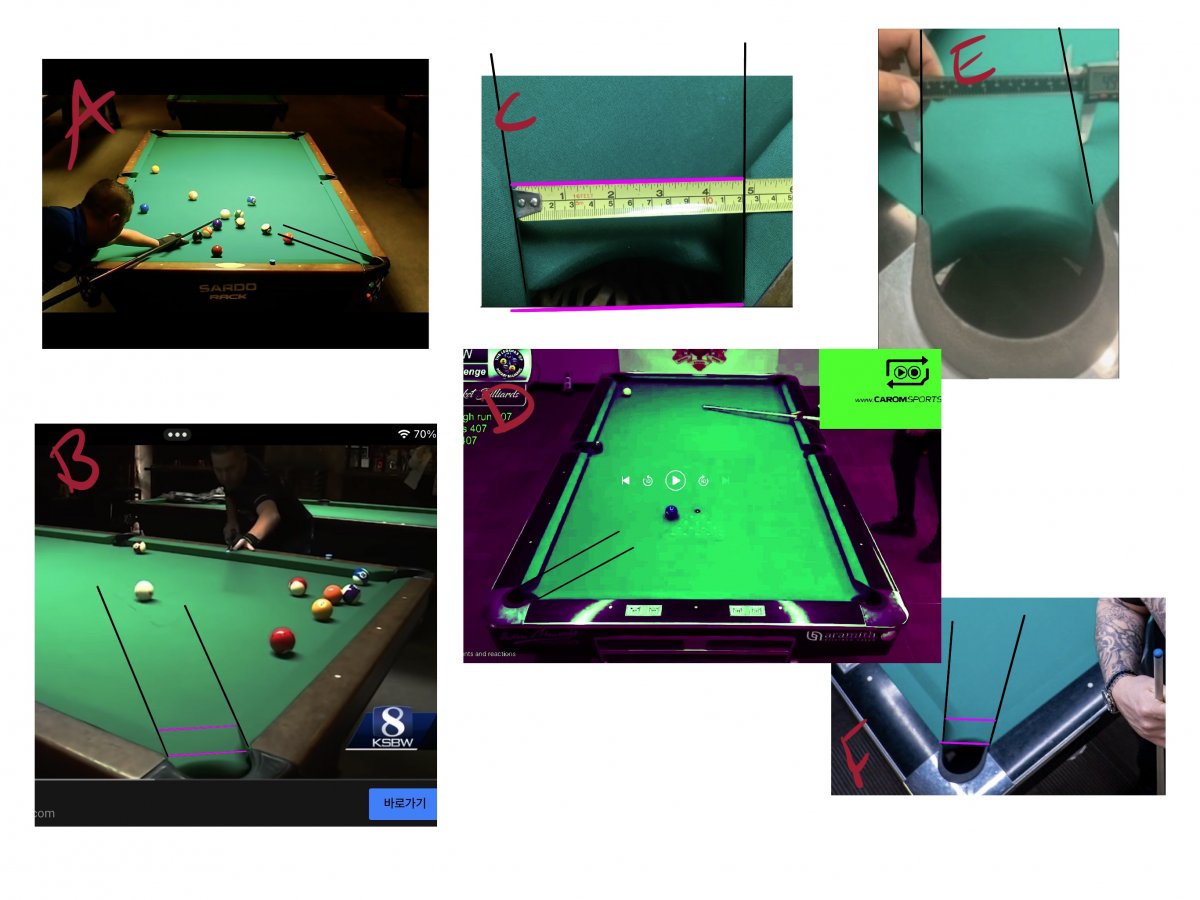 Photos A and D are views of Schmidt's and Shaw's streams respectively. They both show the corner pockets to be parallel. The camera is obviously distorting the table because photos C (Schmidt) and F (Shaw) both show the mouth of the pocket being wider than the throat. Photo C appears to be a fairly accurate photo of Schmidt's table. Photo E is obviously distorted quite severely by the phone's camera, as it shows the throat being wider than the mouth. Other photos and streams show this to simply not be true. Photo F appears to be a fairly accurate portrayal of the table Shaw played on, with minimal distortion. Photo B is another example of distortion and is taken from a news piece on Schmidt's 626.