Cocobolo forearm with twelve points.
Long points are Olivewood with black/white/black veneers.
Shorter points are Tulipwood.
Shortest points are Gaboon Ebony.
The butt sleeve is Tulipwood and Olivewood seperated by a ring of Tulipwood outlined by brass and thin black rings.
Similar rings are featured throughout the cue.
Black leather wrap
Radial pin
Two shafts - 12.4 mm shaft, 1" sabre-t ferrule, Kamui Black Supersoft tip
11.8 mm shaft, 1" sabre-t ferrule, Kamui Black Soft tip
Weight - 18.7 oz
Treadway Custom Cues
was started by Josh Treadway, a long-time apprentice of the legendary cue maker
Jim Buss
. Josh is now working out of Jim's shop and creating his own cues.
This is a beautiful cue that plays great!
Asking
$750 OBO
, will also consider trade offers.
Thanks for looking!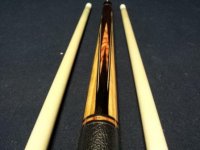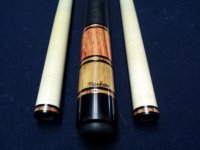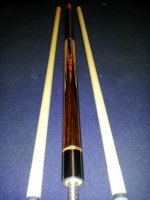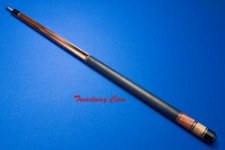 PICTURE TAKEN FROM TREADWAY CUES WEBSITE
www.treadwaycues.com
Last edited: