AzB Silver Member
Silver Member
Cuemakers,
I would like to intoduce a tool that Tom Migliore and I worked on together developing and protyping.
The tools are for measuring how much has to be cut off the face so the joint rings will line up. They work like a micrometer and every line is equil to .002 on the face. With the tool you can measure how much has to come off the face and only have to cut the face one time and everything lines up.
Also would be great for repair or building new shafts with out having to have the cue butt to make sure the rings line up.
They come in 3/8 x 10, 5/16 x 14 and radial thread sizes. The price is $100.00 each before and during the Expo and will be $125.00 each after the Expo.
Contact Tom at 914-391-3464 or
qnhand34@optonline.net
Tom will be at the Expo Friday thru. Sunday and there will be some in my booth to look at and purchase.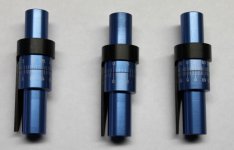 View attachment 381093
View attachment 381094
View attachment 381095
Last edited: