Outsville.com
Silver Member
We just finished another run as they keep flying out the door...
$15
http://su1.co/JMaAzg
Don't think a single layered tip can play as well as a layered?? The Techno-Dud from Outsville disagrees...
The Techno-Dud is a new take on an old idea in that it is a milk dud without the milk... We created our own emulsion out of lab grade caseins and then we process them using multiple QC points along the way... No way you can get this consistent with milk......
Not only are the reviews off the charts but we have a money back guarantee on them like we offer on all of the Outsville products. Generally we retail them at $10 but we are offering 2 for $15 in the store at Outsville You can also find the Dud/Hammerhead bundle in the store and save a few more bucks.....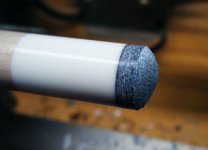 Last edited: