♥ Hippie Hustler ♥
Silver Member
NO LONGER FOR SALE!
Honestly, I'm not even going to go into the roller coaster my life has been for the last 4 years, so....
2010 BEM/Tulipwood Josey Wrapless FS from a commissioned Prather blank. The points are not perfectly even, but pretty close. Honestly, as good as this cue plays, it shouldn't be a factor. And this cue is every bit the player. The cue is about 18.75oz in weight. I have no way to get the exact weight at this time...but it's right about that. There are 3 shafts...the standard Josey shaft is 12.90mm, the Timeless Timber shaft w/phenolic ferrule is also 12.90mm, the other Timeless Timber shaft is 12.75mm w/ivory ferrule. All shafts are tipped with Jensen Milk Dud tips. All inlays are ivory, and the cue has a 3/4" thin-walled sleeved SS flat-faced joint with SS Radial pin. The green in the veneers is a forest green, not the drab that is showing in some of the pics. The cue has been my player, and has a small ding in the finish of the TT shaft with the phenolic ferrule...the result of someone trying to walk off with it and the short tug-o-war that ensued. Does not break the finish and I had to look to find it. I cannot find anything on the butt...so if something is there, it is so minor that it is not noticeable. I take good care of my equipment as anyone who has purchased cues from me in the past can attest. I will apologize in advance for the crappy pics...I have an old digital, and just taking out the cue to photograph was pretty emotional...this cue is very special to me. There is $600 in just the two TT shafts alone. I am looking for $1325 shipped/insured USPS Express CONUS only, payable by USPS M/O...I don't do PayPal any longer. My rep for delivery and condition are solid...and I DO keep the lines of communication open.
onthehillagain@gmail.com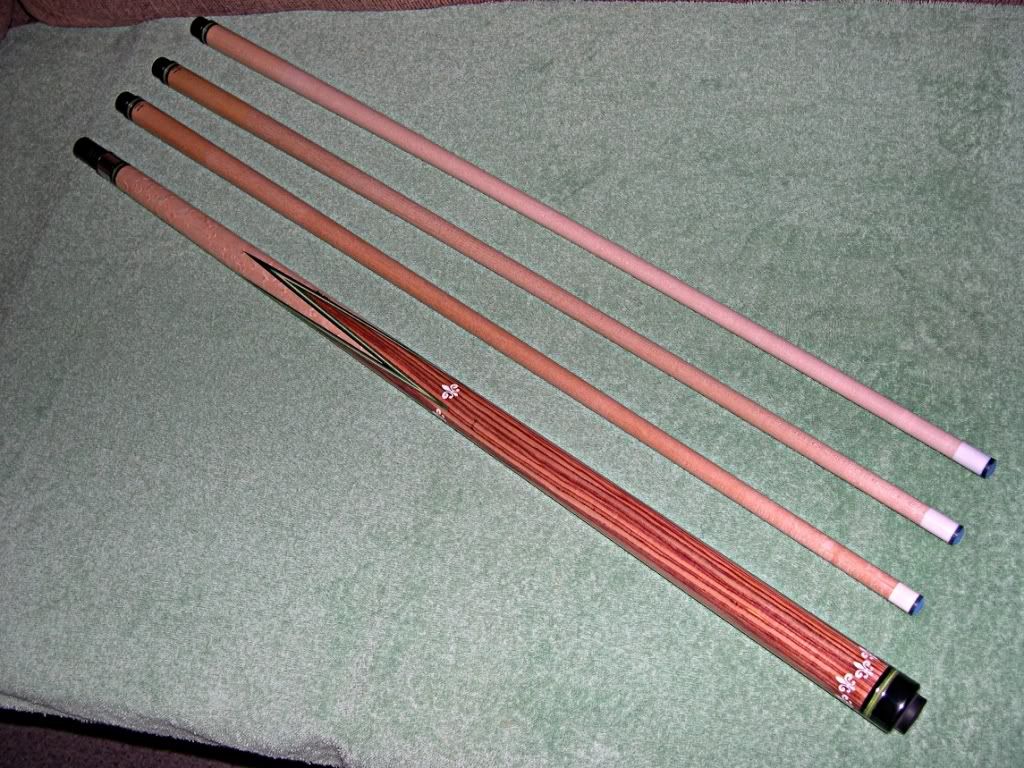 Thank you for looking.
Last edited: