AzB Gold Member
Gold Member
Silver Member
Leonard said this was a cue for Buddy. It was made to buddy's preferance.
It has 2 shafts and both weigh over over 4 ounces with 13.13mm shafts. The ferrels are non ivory. One is straight and one has a tapper wobble.
The butt is straight. And is straight together with one shaftt.
It has the extended wrap and fatter shafts and slim Butt for Mr Buddy Hall.
The cue is signed Buddy Hall. And Buddy sold this cue.
Leonard said all the Buddy Haall cues were made for Buddy.
How cool is that! It is a freaking monster player.
This is a sharp pointed spliced 4 point veneer cue with 4veneers on the maple points into maple.
Decorative rings everywhere. Each shaft would be over $250.
The condition is 90% or better with 96% being one chalked and test hit only.
It is not like new or mint only becuase it has a tiny ding on the edge of the Buttcap. The cue was made over 20 years age. It hits nice.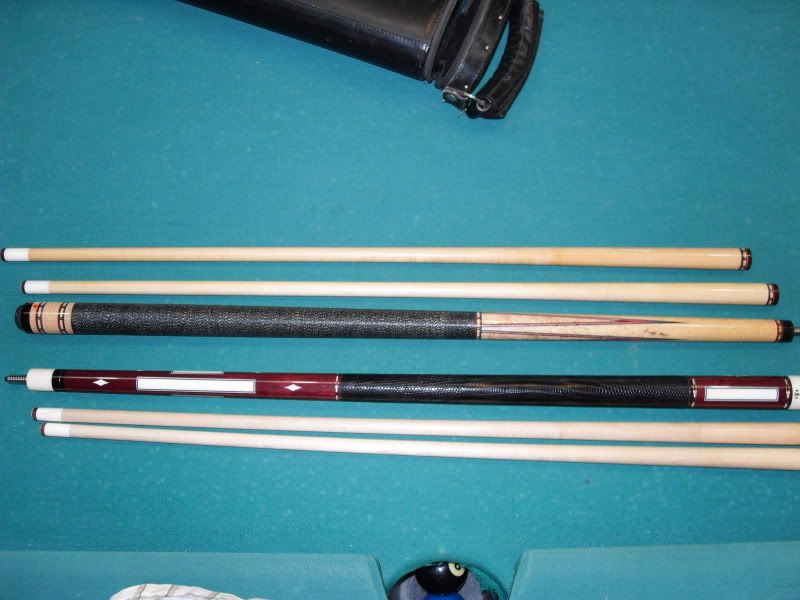 $old
Nick
850-474-0628
Last edited: