One year in waiting, finally the cue stick has been made. Tony Bautista made a lot of effort doing this cue. Cue is all handmade. I believe he made all of this by himself except the design which is made by a friend of mine.

I originally planned to use this cue bY Me personally. However, I have not been playing pool that much for the past 6 months, and I still have my ER cue with me which I am already used to for years.

So this will be a great bargain for all of you guys. As I have been doing for my other post. I gave a way some cues which I don't need. Sorry folks I can't give this cue away for now. However, I will give a great price for an 8 pointer cue with a one piece low deflection shaft.

By now...I will sell this cue for

$650 usd

shipped globally. 2-3 days via fedex or dhl.

Paypal is accepted.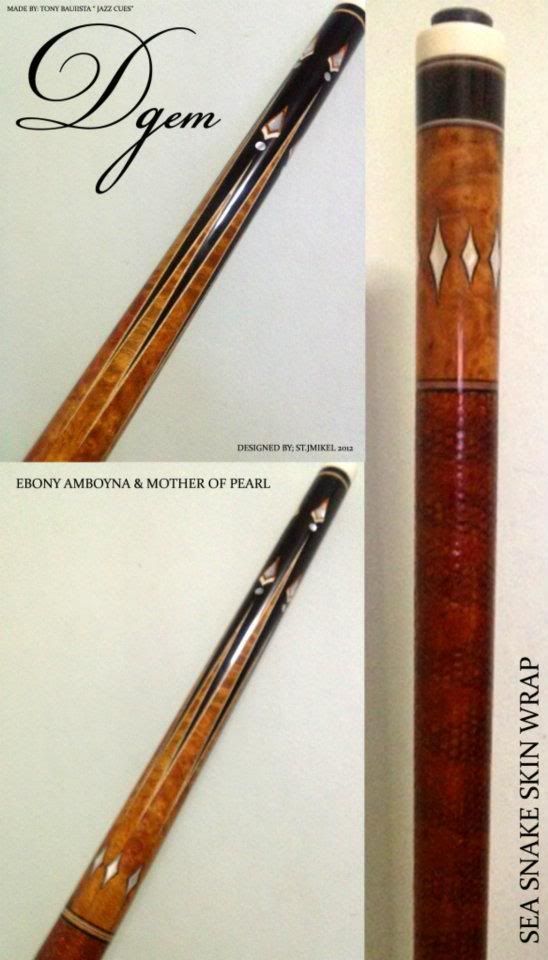 Ebony Amboyna Cue stick Specs By ME..

Specs follows
Length: 58 inches
Butt Weight: 14.56
Cue Weight: 19.32 oz
Forearm: Ebony
Points: 8 points Amboyna with maple veneers. Mother of pearl inlays overlapping with amboyna
Joint: Phenolic white
Pin: 5/16x14 piloted quick release
Wrap: Sea Snake
Buttsleeve: Amboyna with 8 floating inlays ebony,phenolic,mother of pearl inlays
Shaft: 12.8mm low deflection one piece solid shaft
Shaft weight: 4.76 oz

Contact ME BY sending a PM to ME.

Thank you and Have a Nice day to all of you. :smile: