AzB Gold Member
Gold Member
Silver Member
Free FINAL ★★★ Quarantine Marathon Continues ★★★ 5/8/2020
BREAKING NEWS
----
FINAL PART, FREE for all to enjoy at 3pm EST
★★★ QUARANTINE MARATHON CONTINUES ★★★
✪✪✪
ARE YOU READY FOR THIS ?
✪✪✪
If so please Share and let everyone know we will be Live on FaceBook for your enjoyment, I will be streaming the
FINAL PART
10 Ball Race to 100 Today 5/8/2020
Dennis Orcollo
vs
Ko Pin Yi
Start time
3pm EST
!! We hope everyone will enjoy some unseen footage and thank you all for sharing.
Courtesy of Steinway Billiards,
Special Commentators
Tony Robles
,
Gail Glazebrook Robles
,
Hunter Lombardo
,
Troy T OB
,
Zion Zvi
and
Snooky Rojas
​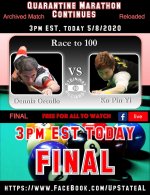 ​