Gilbert cue for sale
SOLD
shipped CONUS (NO TRADES).
Paypal ok. Please PM if interested or if you have questions.
Cue was refinished by Scott @
www.proficientbilliards.com
in 2012 and has been in the case since.
Weight - 19.5 and 19.7 ounces (15.7oz butt and 3.6 and 3.7oz shafts)
Length - 58.25 and 58.5 inches
Shafts - 12.57mm and 12.63mm
This is an Andy Gilbert cue with a 3/8-10 pin. It was made in 2002 and
is marked as such on the forearm.
The cue is in mint refinished condition with no nicks or dings. It is a 4 point veneered cue with the main body of the cue in rosewood with the points of curly maple. The
butt section is completely straight.
One of the shafts has a noticeable taper roll and the other is near straight. Both shafts have linen based ferrules and what appears to be LePro tips. The wrap is black with white spec Irish linen.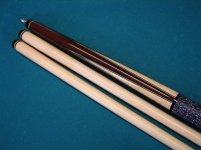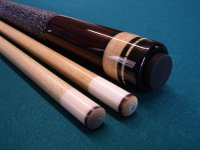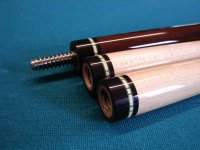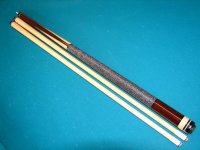 Last edited: