Here is a great player with a bunch of shafts so you can pick and choose what type you really want to shoot with. I used to play with this cue all the time and hate to let it go as I really love green veneers. This cue is in outstanding shape. All white is ivory and so are most of the ferrules. Cue is straight.
Butt is Birdseye maple forearm, ebony points and ebony hoppe butt with white and green speck Irish linen wrap that's original and still looks great. 5-16/14 piloted stainless steel joint with decorative ivory and stainless rings at positions D and E. Butt weighs 15oz. 4 veneers from outside in (Black, Green, Black, Green). Points are even.
Shaft 1 – 4.1oz, 13mm, ivory ferrule, new Kamui SuperSoft tip, light play on shaft, very good shape.
Shaft 2 – 3.75oz, 12mm, delrin ferrule, lightly played Kamui SuperSoft tip, medium play on shaft, good shape but the collar has some bubbling around the rings.
Shaft 3 – 4.15oz, 13mm, ivory ferrule, new Elk Master tip, test hit only, new shape.
Shaft 4 – 4.15oz, 13mm, ivory ferrule, new Elk Master tip test hit only, good shape but there is a little staining on the ferrule that came from whomever put the tip on, other than that new shape.
Comes with new style TS joint protectors for 2 shafts and butt.
Asking price: $1900 OBO. SOLD PENDING FUNDS
Plus $30 for shipping/handling/insurance (paypal preferred - add 3%)
NO TRADES!
R,
Greg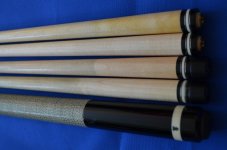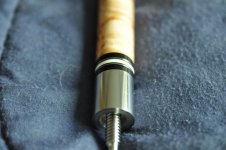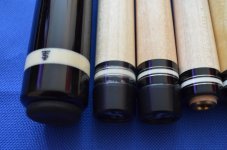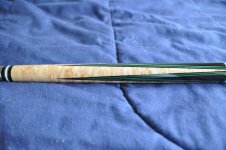 Last edited: