Full Splic Addict
Silver Member
Cues and case for sale or trade.
1x2 JB rugged case. Good condition SOLD
Schmelke playing cue. 4p4v ebony into maple. 29" butt 30" shaft with Kamui Black S tip. 19oz New white w/green spec wrap. This cue is a real player $285
Summit jump break cue. Purple Heart into bacote with Purple Heart shaft. Samsara tip. Hard breaking cue 20.5oz SOLD
Trades: looking for either a true sneaky by a known maker or titlist blank.
Prices listed include shipping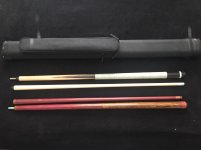 Ben
Last edited: