I've never seen another Leon Sly Jump/Break cue like this. It's one of his early cues that still just has the S logo. The cue was originally made for Shaun Wilkie but I've had it for 6 or 7 years. Breaks really well but it jumps like a monster. The cue is stained maple (red on forearm and butt and black for the handle). The cue is straight and in pretty good condition, just a few nicks and scratches, some on the lower part of the shaft but no dings in the shaft.
Butt breaks down above and below the handle, has a big radial pin, and weighs 13.5oz.
The shaft is hard rock maple with an ultra hard ferrule and micarta tip at 12mm.
Comes with joint protectors for butt and shaft.
Asking price: $350 SOLD. SOLD. SOLD
Plus $20 for shipping/handling/insurance (paypal preferred - add 3%)
NO TRADES!
R,
Greg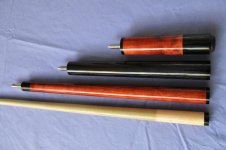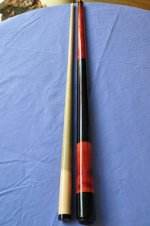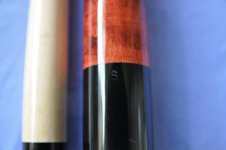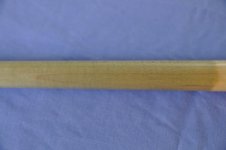 Last edited: