Here is a rare early 80's Tim Scruggs for sale. This cue used to be the display picture in the cue Blue Book. Timmy didn't make very many big cues with a cocobolo butt cap and stainless steel joint. This cue is all original, straight, and in really good shape for its age. It's been kept in a closet for years.
Butt is in outstanding shape, only a couple of very small surface nicks on the very bottom of the butt. You can feel the rings but there is no bubbling. The finish is still top notch. Original black and red speck Irish linen wrap in really great shape, as good as new. Maple forearm and cocobolo points and butt plus the butt cap. Fancy rings at all positions. Rings are black, dark red, brass, and maple dashes and repeated. There are ivory spears in each point and 16 ivory spears in the butt. Butt weight is 15.6oz. 5-16/14 stainless steel piloted joint.
Shaft 1 – 3.9oz, 12mm, new Moori Medium tip, ivory ferrule, shaft shows wear of play and rough finish around the shaft collar but there are no dings.
Shaft 2 – 3.8oz, 12mm, very lightly played Moori Medium tip, ivory ferrule, same condition as shaft 1.
Comes with old school TS joint protectors for shafts and butt.
SOLD
NO TRADES!
R,
Greg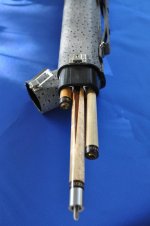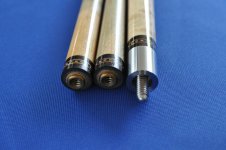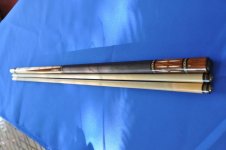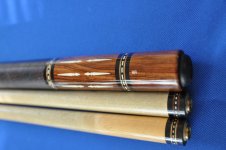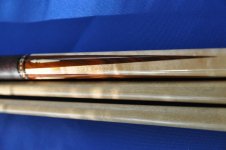 Last edited: