For sale is a great condition Schon STL4 with 2 shafts
Everything rolls straigh together and apart.
Specs: Butt weighs 15.0 oz (small finish bubble in butt)
Shaft 1 Schon IV 4.2oz 12.75mm Kamui black soft tip (ivory ferrule shows hairline crack but still has solid hit) does "NOT" effect play. (being honest)
Shaft 2 Schon (standard) 4.0oz 12.75mm Ultraskin soft tip
Looking to get $SOLD obo shipped conus. Paypal only
**have a 3rd shaft available for an interested party (4.0oz 12.8mm Kamui black soft)
Sorry in advance for the picture quality. I can send more pics upon request. Please pm or email with offers or questions.
tony@aes-sw.com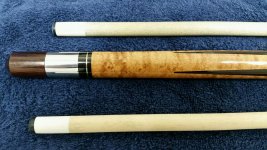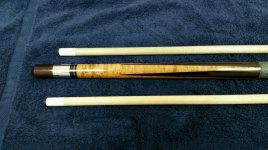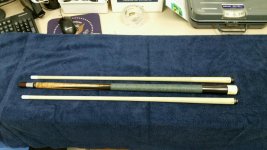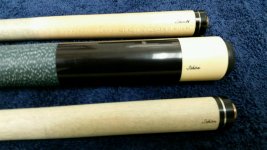 Last edited: