THE CUE HAS BEEN SOLD.
THANK YOU WHAMO. YOU WILL NOT BE DISAPPOINTED.
I am selling my Mezz Cocobolo Sneaky with 2 shafts...One of which, is the
very first
Bob Danielson SS360/2, with Tomahawk ferrule. The cue has the Mezz United joint.Below is a copy of the detailed spec sheet/certification letter, that I will sign, and include with the cue. The cue is in pristine condition. I have been a member here for a decade with 100% positive feedback. You will receive exactly what is stated, and in the condition as described. The price is $550.00 out the door. I will cover any/all seller fees, shipping costs, and complete item insurance. Tracking information WILL be provided to the buyer. I will NOT ship this cue internationally. No exceptions. I can be reached in this thread, or via PM preferably. Thank you for looking:
Mezz Sneaky Spec. Sheet with Certification. 02/07/2018
This cue was purchased brand new, from Nielsen Billiards, aka - Joe Rackem. (Illinois)
Total cue weight - 18.2 Oz with WX 700 shaft
18.0 Oz with SS360 GEN 2 shaft.
Butt Weight - 14.2 Oz.
WX 700 shaft weight - 4.0 Oz. (Factory standard Mezz ferrule, standard Mezz tip.) Tip Diameter ~ 12.50 mm.
SS 360 GEN 2 shaft weight - 3.8 Oz. (Prototype Tomahawk ferrule, Precision Medium tip, installed by Bob Dzuricky.) Tip Diameter ~ 12.75 mm.
Balance Point - Approximately 19 & 1/4 inches to 19 & 3/8 inches, from the end of the bumper to balance.
Overall cue length - 58" (29/29) split.
Certification - I do hereby certify, that the SS360 GEN 2 shaft made for me, for this cue, is/was the first SS 360 Gen 2 shaft, made by Bob Danielson with a Tomahawk ferrule. The shaft was personalized to me, from Bob Danielson, in Bob's hand print. The personalization identification information on the shaft, will be shared only with the purchaser of this cue. This information is accurate to the best of my knowledge, and verifiable via Bob Danielson, aka - BD cues.
Sincerely.
Joseph Pacino.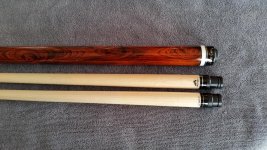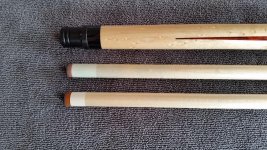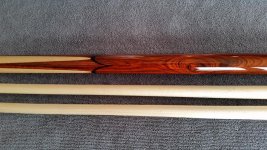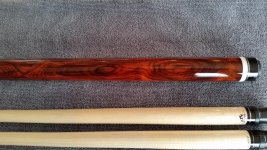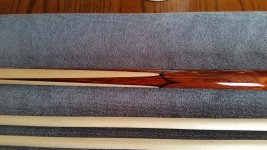 Last edited: