AzB Silver Member
Silver Member
It really is the best glove that I have ever used. I do wish they would make a full finger or a longer finger version and eliminate the Velcro strap. However I can never get them to last more than a year. By my own mistake the first one I ordered a size smaller than what I should have but it still performed perfectly. Also, every single one of them did form to my hand and better than any other brand of glove I've warn since I started using a glove (~1998).
But.
Within a year, Every one of them has split the seam on the inside of the thumb, opposite of the microfiber palm pad. Every. Single. One.
Up to this point I have been considering buying a new Kamui glove every year as a necessary expense for my game, but today I 'm going to start my attempt at getting 2 years out of one. I've stitched all of them back together. In total it took me 15 minutes to repair all three. So, I guess I'm good until 2023.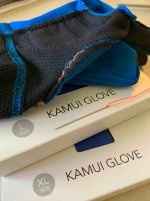 Shooter 1= Stelzenmuller, Titleist conversion-Z2
Shooter 2= Bob Frey, Bacote sneaky