Florida's BEST!
Silver Member
This event is open to anyone so bring a friend to get extra bonus points.
Played on 9 foot tables so bring your A Game!!!
There will be a dress code enforced so please go to our website to read the details on the dress code.
sunshinestateproamtour.com/dress-code-rules
We would like to thank CMs Place for hosting our event so come on out and show your support. If you cant come play come to watch and cheer on your favorite player.
If the internet works ok we will also stream this event under our facebook page.
Facebook Live Stream
If you would like to sign up now click the here to register online.
Sunshine State Pro/Am Pool Tour Online Registration.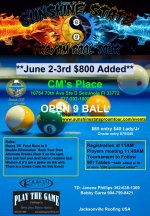 Last edited: