These are short spliced 4 pointers with veneers.
Short white butt cap.
Piano key trim rings on the butt and at the joint
5/16X18 Stainless piloted joint.
Double Pressed Linen Wrap.
Nice White Canadian Maple 13mm shafts with 12" pro taper.
They Play real nice. They have a very nice traditional look.
I have sold these for years, they hold up real good. :yeah:
I played with one myself for nearly 2 years.
They have been my favorite cue to offer.
All will be straight. I triple check.
The trim rings are similar design but slightly different for easy shaft match-up if you buy the pair. :thumbup:
Pick one for $80 delivered USA. You can get both for $145.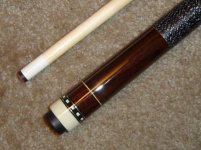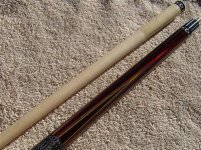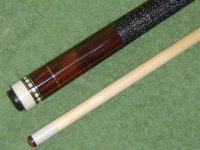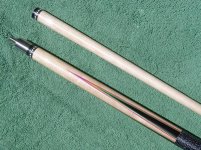 Last edited: