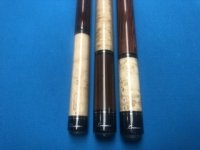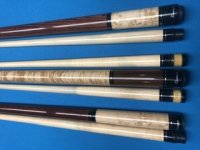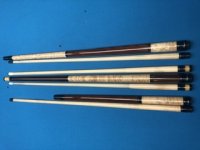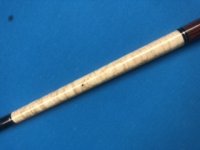 Complete matching wrapless set (player, break, and jump) of Steve Lomax for sale. Great cues, I just don't use them anymore. I don't recall the weights but they come with Steve Lomax's interchangeable weight bolts. You can make them any weight of your liking. Player and 2 shafts come with Jim Baxter joint protectors. The break and jump cues have Lomax plastic joint protectors. Only one of the playing shafts has been used. Lomax jump cues are awesome. His break cues are solid. These are players but are well kept.

Used playing shaft is 12.78mm and the unused shaft is 12.40mm.

The forearm that I used for breaking has a small knot in the maple.
SOLD for the complete set (sorry but will not sell separate) plus shipping w/ insurance CONUS
Last edited: