player/instructor
Silver Member
A cue I ordered/had built out of curiosity rather than the need for another cue – after I met Earl at the WPC 8-Ball earlier this year. All new and delivered a few days ago. Sharing pictures, not necessarily putting up for sale (undecided what to do with it, it's a wonderful cue, but then, all my custom cues are), but if anyone should be falling head over heels with it, feel free to contact me!
Breathtakingly beautiful Afzelia crotch burl (positively shimmering in the light, the pictures hardly do it justice – I'm not a great photographer). Cored with hard rock maple. 2 SPTX (Strickland Pro Taper Extreme) shafts with Shaft Freeze. Weighs 19.55 and 19.6 ounces with the 12.75 (white straight grain, test-hit) and 12.8 mm (visibly more old growth, unchalked) shafts, respectively. Kamui Black "Soft" tips. Delrin joint protectors, and custom ebony joint protector for what I feel is the most beautiful custom extension (another gorgeous piece of Afzelia crotch burl, same glittering silver and olivewood ring work) I have ever seen.
Mike Gulyassy has been a pleasure to deal with, and very exacting in the fulfillment of my wishes, that is, beyond the straightness, weight and balance of the cue, they include special requests for a fractionally thinner butt handle diameter to fit my short fingers, as well as a prolonged wrap section with a short butt plate as I tend to grip the cue farther back than most players my height (= shortness), at the same time, I wanted the cue to look elegant (now that it is finished, I must say it looks even better than that).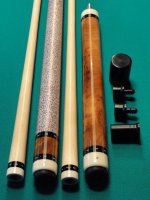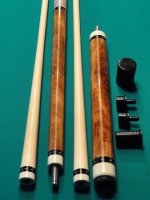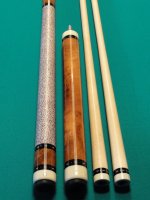 Greetings from Switzerland, David.
_________________
"J'ai gâché vingt ans de mes plus belles années au billard. Si c'était à refaire, je recommencerais." – Roger Conti
Last edited: