AzB Silver Member
Silver Member
Not really sure I would call it a collection as I don't really "collect" cues. My first cue was an Adams (ebony points, mother of pearl inlays) my dad had given me in 1986 that he acquired in roughly 1977. Not long after that I picked up another Adams (merry widow with a missing wrap, I broke with is). I carried them in one of those old vinyl 1x1 cases - they both fit - but they were stolen from Big John's billiards in Omaha, NE when one of the locals was trying to "collect" from some guy so we all followed him out the front door - came back in and my case was gone and never to be seen again
. Shortly after that I bought my first cue - a purple McDermott. Played pretty good and shot with it for a few years but when I bought my first Huebler I traded it for an RC car (that I still have parts for).
I played with the Huebler for about 10 years until I got the itch and bought a brand new Pechauer, instantly knew I didn't like it. Close to same weight as Huebler but it was more forward balanced. I gave it about 6 months then relegated it to a break cue and continued with the Huebler. I bought a Giussepe case at the same time and I carried those two cues (and #12 below) until 2018 when I got back into pool.
When I got back into pool I figured I was much older and might want something different so I went out and bought cues 6, 9, and 10 below as well as a beautiful tulip wood MVP cue and an even better Dzuricky cue. The MVP was too back heavy due to the extension hardware and the Dzuricky, simply put, was too nice for me to play with on a regular basis. I don't abuse my cues but if I'm in a bar and bang it on accident - I don't want to worry about it - so I just couldn't see letting $1400 sitting there as I'm not a "cue collector" per se. So I sold it to mikemosconi here on AZB - and if he ever sells it I want first dibs.
My old Pechauer:
https://forums.azbilliards.com/thre...echaeur-p10-2003-catalog.522571/#post-6801615
My old Dzuricky:
https://forums.azbilliards.com/threads/2010-dzuricky.492477/#post-7077528
My old MVP:
http://mvpcues.com/images/finished/tulipwood.jpg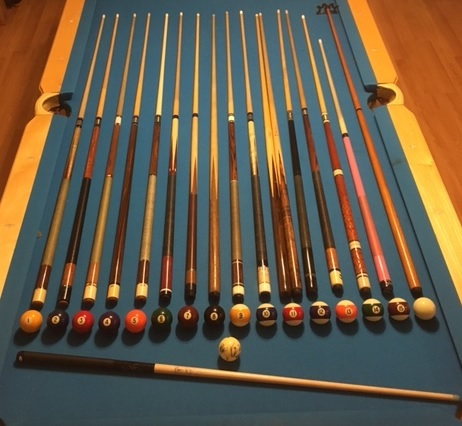 I don't know any of the model numbers anymore, if I have time to look them up again I will. I got them all together so I can start cataloging their dimensions.
They are ordered by favorite's (Huebler's first), not by purchase timeframe.
1) Huebler 1 - 20oz, ~12.7mm - Purchased in the early 90's (guessing '93) and was my player until 2018. I stopped playing in 2004 and got back into it in 2018, I played a little during that time but only once or twice a year and I don't remember ever getting my stick out.
2) Huebler 2 - 19.9oz ~13mm - Purchased this here on AZB within the last year. To me, it's probably one of the best looking Huebler's made other than a Blue Mammoth. It's a bit heavy for me and it is WAY to forward balanced, the shaft is also too thick and needs more of an extended taper for my liking. My old cue, even though it's too heavy for my current liking, is much better balanced and I play with that more often as of now. The goal is to lighten this one and build a couple of shafts for it. Once that is done I will determine if it will be last playing cue.
3) Huebler 3 - 17.3 - ~12.75mm - I purchased this cue about 2 years ago (I think ebay but could've been here). It is the perfect weight and has a pretty good taper but it too could use an extended pro taper. That being said, I used this cue extensively after I put a massive ding in the shaft of my Ned Morris while at a tournament in WY a couple of years ago.
I'm not weighing anything else tonight, I'll try getting specs for all of them soon but don't hold your breath
4) Huebler 4 - I purchased this for (hold your breath) a whopping $10 about a year ago
A buddy of mine picked up a couple of them somewhere a few years ago for free (don't remember how/why but I think they were house cues somewhere). I planned on using it as a break cue but he didn't have the shaft with him when I picked it up and I didn't get the shaft for a few months, by then I had already moved onto something else
Ultimately, I gave it to my son as a break cue so I can't currently weigh it (I took these pictures about a month ago).
5) Huebler 5 - I purchased this from ebay about 2 years ago to use with Huebler 1 as a break cue. The haft was warped beyond usability so I built a shaft for it. When it was almost done I forgot to support the joint end when doing the tip and it wobbled and smacked the lathe so there are a few "dings" about 4-6" up from the joint. Someday I'll fill them with epoxy, but probably not. And if you know my affinity for old wood shafts you may notice how white that shaft is, that's why I never used it much, didn't like the sound of it.
6) Ned Morris - 18.8oz - 12.7mm (knew this one by heart - It's a 1 of 6 with purple heart points and a bacote butt. I bought it off ebay and fell in love with the hit. It's a bit too heavy for me but at the time I hadn't really played with a sub 18oz cue. It was my daily player until I dinged the shit out of the shaft about 1.5 years ago. I actually dropped and it had a buzz so I sent it to Ned in Palm Desert and then rode my Harley down there and visited his shop while he pulled the pin and reinstalled, it didn't fix the problem (it's in the joint between handle and forearm) but it was a good time and it was a pleasure to meet Ned.
7) Chili Palmer special: serial number 1
- This is the one and only cue I've made to date (I'm busy and building cues takes time, which I don't have a lot of). It's a mashup of two different bar cues (shaft included) that came with my table. The rings were purchased in a box misc rings from a builder in FL who was sick and was going out of the business. It's a bit think but it's got a good weight to it. Someday I'll build a new shaft for it, I have one more shaft ring that matches.
8) Q's Billiards (Boise) off the wall house cue - 15.5oz and 57" long - About a year ago me and a co-worker (who doesn't even know how to properly form a bridge) went there for lunch to bang some balls. When at a bar I walk along the wall and look for a tip shape of my liking, when I find one I just lift it up an inch or two in the rack to check weight - if it's light I'll grab it and on the way to the table I'll run the shaft through my bridge to see if I like the way it feels. I picked this thing up and loved it! Started playing with it and decided I wanted it, since I go there often I know the owner so I went to her and offered to do free tips on 5 of her cues if she'd give me this cue - she agreed and it, along with 5 other cues, went home with me. I use it exclusively for breaking at home and occasionally bang some balls with it. Best damn house cue I've ever played with. Two of my buddies didn't believe me how good it was until the they came over one day. One guy showed up first and I was bragging about it and racked up some 9B and let him break - he snapped the 9 on the break. Second guy showed up 45 minutes later and I was bragging about it - he grabbed a ball from the corner pocket and set right in front of the pocket and proceed to slow roll a 3 railer - OB went around the table and just plopped right into the heart of the pocket
My goal is to convert it to a 2 piece and add some length to it. I've got a big chunk of brown linen phenolic (purchased from the same guy I bought the rings used in #7 above, there's enough to make about 100 ferrules if I remember) I'm going to use for the ferrule, joint, and butt cap. Someday that will happen, but don't hold your breath.
Continued...
Last edited: