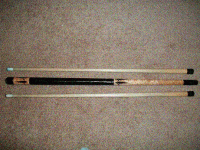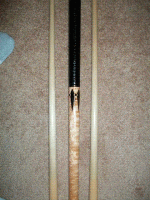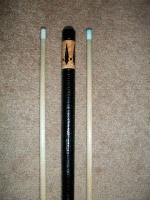 Bringing this cue back out for sale to raise some needed cash.
This cue is a model-10 upgraded to the lizard wrap and adding one new shaft w/ivory ferrule. phenolic butt cap w/ gold colored ring, birds eye maple butt w/4 short ebony points w/2 gold colored bars also 4 circles between points w/gold dots. Lizard wrap w/gold colored rings top and bottom, the seam is almost invisible. The forearm is beautiful birds eye w/4 short points matching the butt. Phenolic, 3/8-10 joint w/matching shaft rings. The finish on this cue is perfect not a mark of any kind. Two shafts, 1 fiber ferrule, .1 ivory ferrule. Both shafts have seen some play with minimal bluing. Cue weighs 19oz and it is straight.
Asking $400 plus shipping, looking for reasonable offers.
Last edited: