Palmer Model G from the 2nd catalog recently refinished and new wrap installed.
Cue is in very nice condition, butt is straight, the shaft has a slight taper roll (nothing leaves the table).
Butt 15.7oz
Shaft 4.1oz 13mm
Asking $Sold. The only trade I would be interested in is for a lighter Palmer cue.
Please PM me with any questions or for more pictures.
Thanks Stan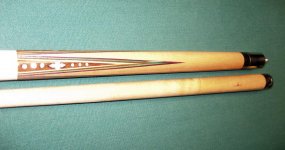 View attachment 379264
View attachment 379265
View attachment 379266
Last edited: