Beautiful Redwood burl and Zebrawood Pat Diveney cue with an Ivory joint.
Butt and shaft roll straight together and apart (shaft has a slight taper roll, nothing leaves the table, it looks great to me but I will say it has a roll to cover my butt lol). All the white is Ivory. Matching Zebrawood and Redwood burl Joint protectors.
Great looking and playing cue, I'm not using it and could use the money for other pool related toys.
Butt 14.4oz (has a .54oz weight bolt that can be put back in)
Shaft 12.9mm 3.93oz ivory ferrule
Radial Pin
Asking $Sold shipped and insured
PM with any questions
Thanks.
Stan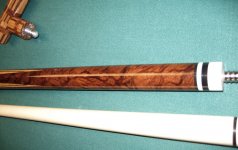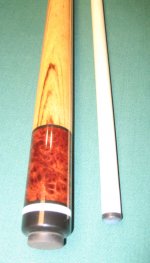 Last edited: