Awesome Pat Diveney
Hello All,
I'm going to part with my Diveney The cue has very little play.
At any rate its going out to Pat for a ferrule and shaft clean only on the shaft that has play. The 2nd is identical with no game play, actually I'm yet to chalk it; I've rolled a few via dry-fire!
Here you go:
2007 Diveney
Six points of Curly maple
Super red highly figured exceptional Cocobolo with a super Sapele nose and butt.
Ivory ring work sandwiched in Silver at A,B,C,D & E.
The cue weighs 15.50. One shaft at 3.50 and the other 3.75 and this one balances at just over 19 inches for what its worth.
I'll get some better pictures up, and expect to have the shaft back in 7-10 days. I'm trying to put another deal together and that's the only reason I'm listing the cue prior to getting the shaft back.
$950.00 Firm, NO TRADES PLEASE
Thanks,
NINER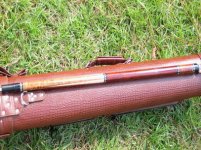 http://s186.photobucket.com/albums/x316/shanelexus/Diveney/
Last edited: