AzB Silver Member
Silver Member
The Magician Efren Reyes vs The Thorpedo Billy Thorpe :smile:
One for the One Pocket Action fans!!
The Old School vs New School!!!!
More 2 man tournaments from PoolActionTV!!!!!
$20,000 in the middle, best out of 5 sets, race to 10. One set each day.
One Pocket Hall of Fame Player Double J Jeremy Jones on commentary breaking down all the shots and strategies of the game. :clapping:
Live from Arena Billiards in West Monroe, LA.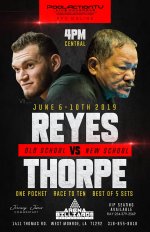 Premium Pass is a great deal. Total access of everything until December, 2019, lots of great events and two man action coming soon!!!!

- click green button below to purchase -
⇩
​