AzB Silver Member
Silver Member
May 23-26th, 2019 Buffalo's Pro One Pocket $10,000 Added
Another AWESOME event from Buffalo's Billiards in New Orleans. Just a few weeks away.
16 World Class One Pocket Players battle it out for a huge payday.
$42,000 prize fund!
1st place: $17,000
2nd: $11,000
3rd: $8,000
4th: $6,000
No Fees of any kind 100% payout. No green fees or table charges $10,000 in true Added money to the Tournament Prize fund.
PLUS A Huge Calcutta with 100% payback no money taken out. Past events at Buffalo's have had 50-60k range in the Pro One Pocket Players Auction.
VIP seating on sale now. To reserve yours, get in touch now!! Message Ray Hansen text @ 254-379-2569
VIP Seats are $100 for a guaranteed ring side seat for the entire event. ALL seating proceeds go into the tournament fund.
The Magician Efren Reyes will be playing. This might be one the last times you guys get a chance to see one of the greatest players of all time compete in the USA.
Live Stream @
www.PoolActionTV.com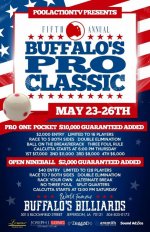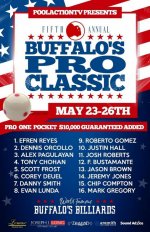 ​
Last edited: