Florida's BEST!
Silver Member
SSS $1000 ADDED Park Ave. Billiards Dec.1st & 2nd Orange Park FL Tour Finale Pro/Am
The Sunshine State Pro/Am Pool Tour presents our tour FINALE Hosted by Park Avenue Billiards in Orange Park FL.
If you're ever going through Jacksonville it's a must stop by pool room with 33 pool tables plus so much more!
The Sunshine State Pro/Am Pool Tour would like to take this time to thank all of our sponsors for helping us make this a great year for our pool players in Florida!
Cyclop Pro TV Balls
provided for all of our events.
Play the Game Clothing Co
. for the best in Billiard apparel. Hate to see you guys retiring this year thank you for your support.
Jimmy Garza with Jacksonville Roofing USA, LLC. for supporting our tour for two years now so please if you ever need help with your roofing needs don't hesitate to call him at 904-759-1037 The best roofer in the BIZ!
Predator Cues & Products
I don't think that there is a better cue on the market! Plus all of your accessories needed for your GAME!
Kamui Products
What can I say...I use them and are worth every penny!
Diamond Billiards
Thanks for the new Diamond Racks being used for every one of our events! These are absolutely the best racks that you can have in a pool room.
Last but not LEAST the INFAMOUS Alvin Nelson with
InsidePool.TV
for such awesome streams that he creates for our tour..Just an Artist I tell ya! Thank you so much!
Oh and most of all thank you to our 270 plus pool players for this year that supported our tour!
Okay with that being said Thank you all for a GREAT year and we'll be back next year with Bigger and Better for all!
Saturday Dec. 1st is Open 9-Ball everyone welcomed. $65 entry & $40 for Women/Juniour.
Sunday Dec. 2nd is Amateur 9-Ball $40 entry & $25 for w\Women/Juniors
See Flyer for more details.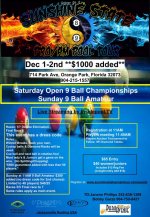 Last edited: