Florida's BEST!
Silver Member
XTRA XTRA Read all about it!!!
Double event this weekend folks best of both worlds!
On November 18th we will be having an $1000 added OPEN 10-Ball event
"Notable Pro's will be giving the field one game on the wire"
On November 19th we will be having an $200 minimum added AMATEUR 9-Ball event
"Please refer to our website for Eligible amateur requirements"
**Looking to get more $$$ added before for the 9-Ball event date**
WWWSUNSHINESTATEPRO/AMTOUR
Please check out our sponsors as they really do a lot to help make this sport grow.
ONLINE REGISTRATION IS NOW OPEN
Secure your spot while you can because Capone's has always been a hot spot!
We already have players signing up now so get in where you fit in!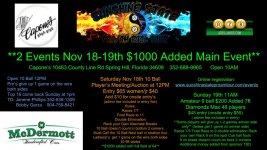 Last edited: