Starting Monday, September 16 - "The Grudge Match" Scott Frost VS. Chip Compton~
These guys have been woofing all week long! Now the stage is set and its time to get it on!
One Pocket ~ 8 Ahead ~ 8 Hour daily limit ~ 3 days max ~ Prorate if not finished by Wednesday night
Live from Herb & Dee's Breakroom in Longview, Texas. SullyVision will be covering the entire event. Go to
http://SullyVisionTV.com
to sweat the action.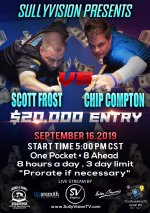 SullyVision
We've got you covered!
903-701-1387