I have a few cues up for sale. I have held onto these cues for awhile and they just sit in cases in my pool room. It is just time to let them go and use the money for other things. I will add missing specs when I get a chance and can also send individual pictures as needed.
#7 - Barber (
$650 shipped
) - 4pt Purpleheart into Birdseye w/curly handle, white & black veneers, 3/8x10, 58", 17.5-17.55oz,
B:
28 7/8", 13.81oz,
S1:
29 1/4", 3.69oz, 12.56mm
S2:
29 1/4", 3.74oz, 13.10mm, LBM ferrule.
The butt cap, joint, rings, and one ferrule may be ivory, but I am unsure at the moment. One chip in bottom of butt cap and I crack in finish on forearm.
This cue is on the Cover of American Cueist and I have that issue which will go with the cue and it's in good shape!
#8 - Espiritu (
$750 shipped
) - mismarked sometime before I received the cue. The cue will be sent directly to Russ Espiritu for signature and refinish so the cue will be perfect. Stained birdseye forearm with ebony points/butt sleeve, 4 point/4 veneer - maple, pink/red,thin black, thin black, hoppe ring, Silver rings at joint/shaft collars, Leather wrap, two shafts with 5/16x14 piloted stainless steel joint. 18.97oz or 19.19oz, 58",
B:
15.15oz, 29",
S1:
3.82oz, 29", 12.38mm,
S2:
4.04oz, 29", 12.42mm
#9 - Rauenzahn (
$2050 shipped
) - 4 pt Ebony into Birdseye w/maple, green, blue, black veneers. Blue/green/blue Szamboti rings at joint/shafts, radial pin, 59 1/2", 19.31-19.37oz,
B:
29 3/4", 15.16oz,
S1:
29 3/4", 4.21oz, 12.94mm,
S2:
29 3/4", 4.15oz, 12.88mm, Ivory ferrules, Ivory joint, Ivory inlays, Ivory rings, veneered boxes in butt sleeve, non-ivory buttcap.
New cue with maybe 10 racks played with one shaft!
#10 - Sumrall Cue (
$700 shipped
) - Full splice built completely by Paul Sumrall....not from a blank! Bocote into ebony with red/black/red/black veneers. Ivory diamond inlays with black outlines above butt cap. Ivory joint and ferrules. Two shafts with white phenolic shaft collars. One shaft has a brown sugar mark, but is actually a better hittin shaft IMO. The shaft collars differ a little from the ivory joint color, but can be changed by Paul fairly easily. Other specs to be added later. 59"
#11 - Hunter Classics Titlist (
$1400 shipped
) - Wrapless Titlist conversion, 58 1/4", 19.48-19.51oz,
B:
29 1/8", 15.41oz,
S1:
29 1/8", 4.10oz, 12.6mm,
S2:
29 1/8", 4.07oz, 13.04mm, Ivory ferrules, Ivory sleeved joint, Ivory inlays, Ivory hoppe ring. Most vibrant veneers I've seen on any titlist and Wes matched the ringwork perfectly! There are two chips in the finish in the butt sleeve, but the cue will probably need a refinish since it was a main player to the previous owner. One ferrule is bell-shaped outwards toward the tip and should probably be smoothed out.
#12 - Steve Klein Titlist 1of1 (
might be open to offers
) - Titlist Conversion, brass radial pin, 58", 19.66oz,
B:
29", 15.71oz,
S1:
29", 3.95oz, 13.12mm, Melamine ferrule,
S2:
specs to be added. Phenolic flat faced joint, phenolic butt cap, magenta barbells with MOP dots. This cue is new and signed Steve Klein 1of1, but the bottom of the points were not straight and so the inlays aren't completely aligned with the bottom of the points because of that.
#13 - Toeboy Titlist (
$650 shipped
) - Tall ivory butt cap, ivory joint (has crack, but has been glued and is solid), two shafts, flat faced 5/16x14 pin. This cue is amazingly stiff and hard hitting.
B:
15.55oz, 28 15/16",
S1:
4.15oz, 29 1/16", LBM ferrule,
S2:
3.81oz, 29 1/16", ivory ferrule,
T:
19.36-19.7oz, 58"
#14 - Unknown 60's cue (
open to offers
) - 6 point, 3 hi/3 low, no veneers. The points are almost perfectly even, smooth brown leather wrap with grooves at top and bottom, ivory or buckhorn joint, butt cap and rings are a dark brownish/mahogany colored fiber material, no weight bolt or bumper, age unknown, history unknown. Brass 3/8x10 pin,
B:
12.70oz, 29",
S:
2.87oz, 29", 12.23mm,
T:
15.57oz, 58".
If using Paypal, please add 4%.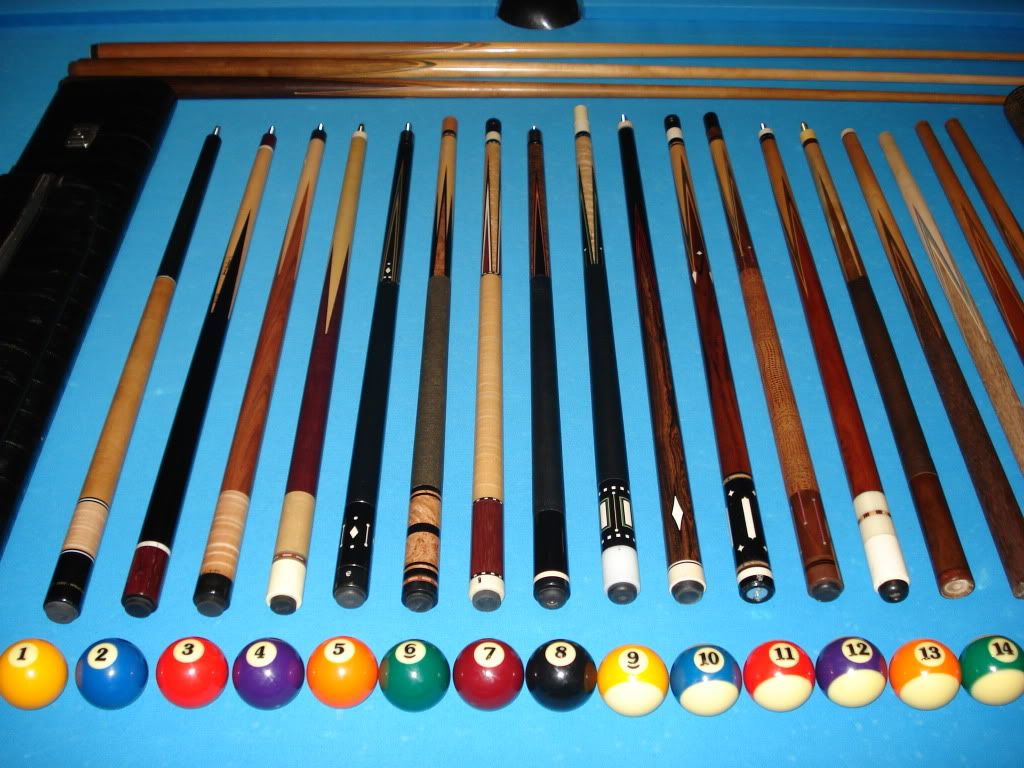 Last edited: